THINK TANK YOUR BUSINESS MODELSM
"Progress is impossible without change, and those who cannot change their minds cannot change anything"
— GEORGE BERNARD SHAW, playwright
YOUR CHALLENGE
The only constant is change! How will the economic logic behind delivering value to customers at an appropriate cost change in the future? How will your customers' jobs-to-be-done change over time? How will customers re-define value? What will be the latest trends in technology affecting your business model? How will competition play out? What disruptive forces will infest the markets?
To be prepared for the challenges that lie ahead and remain profitable, any firm must answer these and similar questions thoroughly from their unique perspective and adjust their business model and competitive positioning accordingly
OUR OFFERING
To ensure your readiness for upcoming challenges faced to achieving your goals, our Think Tanking your Business Model SM offering provides you with one or a series of think tanks on focused topics
Each think tank, which lasts up to half a day, focuses on one specific topic of your choice related to your business model and strategy. We start by providing you with a unique insight presentation, describing market trends, best practice, case studies, and the latest academic findings. Through showcasing our proven moderation capabilities, we help you understand the root causes behind the challenges at hand, identify and understand expected impacts, and support you with business model driven ideation to design possible solution options. At the end of each think tank we provide you with a concise summary of the gained insights and a prioritized list of discussed actionable ideas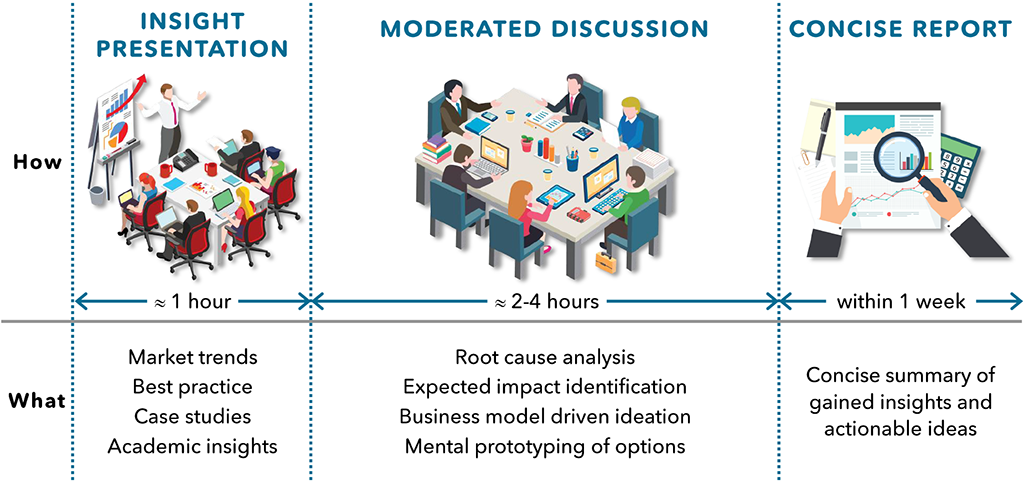 YOUR VALUE
Our Think Tanking your Business Model SM offering provides you with
awareness of the challenges that lie ahead and the path along which they can be addressed,
the necessary understanding of the underlying drivers in a top-down and holistic,
buy-in from key stakeholders through their early inclusion in the discussion, allowing to address potential fears and denials, and
support for defining and prioritizing needed change initiatives based on insights gained, ensuring optimal return on investments and reducing project failure risks.
TYPICAL THINK TANK TOPICS
COMPETITIVE ADVANTAGE
Identify the strategy view along which you want to differentiate yourself from competitors, that is, focus on superior customer experience, or on innovative products and services, or on offerings quality and investment performance, or on financials. Define the structural characteristics that should make up your competitive advantage by focusing on what you want to do differently and / or better than your current and potential competitors. Delineate the areas in which you do not want to compete going forward
---
BRAND POSITIONING
Understand the relevance of the brand in the customer decision journey, especially with respect to lead generation and lead conversion, and how it can be improved. Describe the value proposition / competitive advantage characteristics that you want to relate to your brand. Design strategies for enhancing the brand awareness / brand visibility with potential customers. Understand the role of the brand in building trust and signaling loyalty
---
CUSTOMER SEGMENTS TO BE SERVED
Identify the ideal customer segments as personas and describe their jobs-to-be-done, their needs, pain points, and sought-after gains. Describe the customer decision journey, from identifying a need, through active evaluation of options, to the moment of purchase, including the role of the offerings shelf, track record, trust, as well as peer reviews. Identify relevant buying criteria. Relate the customer segments to existing and / or future value propositions. Review the described customer segmentation with respect to regulatory requirements
---
NEW CUSTOMER ACQUISITION
Determine the core approach for acquiring new customers, for example, through referrals, through brand positioning, through acquisition of assets, through M&A, or through hiring of so-called customer owners. Define the capabilities needed for generating new leads, that is, identifying and approaching potential new customers. Understand the rational and emotional traits that reduce the switching costs of leads and allow for building a customer relationship, resulting in lead conversions
---
CUSTOMER RETENTION
Identify possible metrics to measure and monitor the value of customers. Understand customer loyalty criteria, that is, the rational and emotional properties that relate customers to your firm. Understand the reasons that make customers leave. Develop potential customer retention activities addressing the identified reasons and focusing on customer loyalty criteria. Discuss possible switching costs, monetary, psychological, effort- and / or time-based, that may dissuade customers from leaving, without being perceived negatively. Review processes for addressing issues of unsatisfied customers
---
SERVICING CUSTOMER THROUGH DIGITALIZATION
Identify channels through which different customer segments want to interact with your firm and relate the interactions to the different phases of the customer relationship, from identifying leads, through onboarding. Determine technology needed to interact with customers over different channels, considering regulatory requirements. Define the value, both economic and emotional, that can be created for customers by relying on digitalization, rather than on traditional service models. Show how digitalization may allow building / maintaining a trusted relationship with customers that are not accessible through traditional acquisition / retention approaches
MANAGING THE SALES FUNNEL
Identify approaches for organically generating new leads. Describe how leads can be translated into opportunities by matching them with existing and / or new offerings. Determine the right balance between selling offerings, advising customers, and managing the relationship. Design an approach to integrate regulatory compliance into the sales process
---
REWARD SYSTEM
Define the roles and responsibilities of different stakeholders (RMs, product managers, portfolio managers, investment specialists, operations, senior management, etc.) in the sales process, focusing on expected contribution and value creation. Design sales performance measurement metrics aligned with your strategy as well as new customer acquisition and customer retention goals. Focus on customer value contribution to profitability. Identify and mitigate risks of employees gaming the system
---
OFFERINGS SHELF
Understand what offerings are required to satisfy customer needs, alleviate their pains, and generate gains. Recognize offerings that are not key for addressing customer needs and jobs-to-be-done. Define the characteristics of the offerings that make them different / better than those of competitors from a customer perspective. Determine the value proposition of each offering. Identify offerings gaps on the current product shelf. Review the offerings for cross-border compliance and mitigate the risk of overloading the offerings shelf due to regulatory requirements. Focus on those regulations that can be leveraged on the offerings shelf
---
PRICING MODEL
Understand how customers relate value to price, focusing on reference value and differentiation value. Rethink the pricing models with respect to units of value of the offerings. Identify options for possible superior pricing models with respect to transparency, fairness, communicating about prices, value of service quality, brand value, and switching costs. Understand the relationship between offerings, fixed and variable costs, volume, price, value, and customer needs. Define characteristics of a consistent pricing policy
UNDERSTANDING TECHNOLOGIES
Gain a common understanding about disruptive technologies, like blockchain, internet of things, machine learning, robots, or just the next generation user experience. Learn how to distinguish between digital technology marketing gimmicks, promising heaven on earth, and real business value. Identify areas where new technologies could be of value to your specific business model
---
BUSINESS PROCESS AUTOMATION
Assess the different elements of the value chain and identify associated business processes. Identify processes that are not mandatory for delivering value to customers or ensuring regulatory compliance. Address the "that's how we have always done it" challenge. Recognize key business process bottlenecks, in terms of effort spent and costs incurred. Benchmark current business processes to industry standards and best practice. Evaluate which business processes could be automated and what preconditions need to be satisfied for investments in automation to be profitable
---
MAKE-OR-BUY
Analyze the different elements of the value chain and classify them along any of the four dimensions:
activities key for delivering the value proposition / competitive advantage,
mandatory in-house activities due to regulatory and compliance constraints,
non-core activity for which economies of scale exist and/or managing outsourcing interfaces is tool costly, and
other non-core activities
Asses if and how other non-core activities could be outsourced profitably. Determine criteria that must be met for a make-or-buy decision to be profitable. Asses the costs and risks of managing the relationship with outsourcing partners and relate them to insourcing costs. Benchmark current outsourcing policies to market trends
---
OWNERSHIP AND RESPONSIBILITY
For each activity of the value chain, describe the person / unit responsible for the input and the person / unit responsible for the output / value created. Ensure that each individual / unit has enough authority to perform the activities required to deliver the described output. Determine clear exception handling policies, both on the process as well as on the involved parties' level
---
GAINING EFFICIENCY THROUGH DIGITALIZATION
Review the current offering in the light of extending / replacing individual products / services by digital versions. Characterize potential investments and expected costs savings from such adjustments. Relate the potential adjustments to the perception toward digital of the different customer segments. Describe the potential impact of digitalization on the positioning of the competitive advantage and brand in the market
Why not get in touch for a first non-committal discussion to find out if our Think Tank your Business ModelSM solution is right for you