FOSTERING CREATIVITY USING THE LEGO® SERIOUS PLAY® METHOD
You can learn more in an hour of play than you can from a lifetime of conversation
YOUR CHALLENGE
Leaders, managers, and executives are often confronted with wicked problems – problems that are challenging to solve because of incomplete, contradictory, and / or changing requirements. In addition, cultural aspects often play an important role in addressing these challenges. Traditional analytical problem-solving methods fail to address these challenges in an efficient and effective way. One reason for this is that the solution is not contained in the premises of the problem. They lack the necessary creativity.  In addition, relying on 1-D tools, like speech or text, or 2-D tools, like graphics or photos, fails to address the multi-dimensional nature of the challenge at hand.
OUR SOLUTION
The LEGO® SERIOUS PLAY® method is a creative process designed to enhance problem solving based on experimentation. It has been developed to support creativity in a business environment. It supports a hands-on, minds-on learning approach and produces a deeper, more meaningful, understanding of the challenge at hand which leads to superior solutions.
Through the four-step facilitated building, thinking, and communicating process, the LEGO® SERIOUS PLAY® method supports participants solving business challenge, using models, metaphors, figures of speech, and narratives in a collaborative workshop setting. Participants develop solutions by building models using LEGO® bricks and mini figures in a flow of intense playing. Through building metaphors of their ideas, participants discover the root causes of the problem effectively and come up with adequate solutions. In addition, sharing the meaning of the models built with other participants, fosters creativity in a way that cannot be unleashed using other problem-solving techniques.
YOUR MODERATOR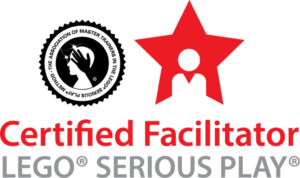 All our LEGO® SERIOUS PLAY® workshops are moderated by Dr Claude Diderich who is certified in designing and facilitating workshops with the LEGO® SERIOUS PLAY® method by the Association of Master Trainers in the LEGO® SERIOUS PLAY® method
There is no substitute for hands-on experience. After attending the LEGO® Serious Play® Mini Workshop led by Claude Diderich, I have a deeper understanding of how this tool can be used to work through strategy and problem-solving challenges. Even more valuable to me was the opportunity to "try out" the participant experience. The balance of theory, hands-on practice, and discussion of use-case possibilities during the session exceeded my expectations in every way.
YOUR VALUE
Fostering Creativity Using The LEGO® SERIOUS PLAY® Method provides you with
a framework for engaging in a rich dialogue about solving wicked problems,
a sophisticated means for developing and communicating innovative ideas, and
a method supporting the design and sharing of meaningful and creative solutions.
The LEGO® SERIOUS PLAY® method provides you with a 3-D printer of your mind!
PRICING
| | |
| --- | --- |
| On-line introductory mini problem solving workshop (2 hours via zoom, between 2 and 10 participants)+ | CHF 120,-* per participant |
| Idea generation workshop (½ day, max. 10 participants) | CHF 2'000,-* |
| Team building workshop (½ day, up to 9 participants) | CHF 2'000,-* |
| Solving a specific wicked business challenge (1 day) | starting at CHF 3'000,-* |
| Prototyping new product or service ideas (1 day) | starting at CHF 4'000,-* |
| Strategy design (starting from 2 days) | starting at CHF 10'000,-* |
| Other alternatives, other challenges | on demand |
+) You need to buy the LEGO SERIOUS PLAY starter kit (available on-line from LEGO, Amazon, or other retailers) ahead of the workshop
*) All prices excluding 7.7% VAT (if applicable) and excluding logistics as well as travel expenses
CONTACT
Contact us for a no-obligation discussion to find out how we can help you promote creativity and solve wicked challenges using the LEGO® SERIOUS PLAY® method.
You may reach us by e-mail info@innovate-d.com, by phone at +41 (44) 450 8100, or directly using the contact form below.
Please note that your message is delivered to us via unencrypted e-mail. If confidentiality is important to you, you may encrypt your message with our OpenPGP public key, which can be accessed on hkp://pool.sks-keyservers.net, and send it to info@innovate-d.com. The fingerprint of our public key is 94BA B6EF 668C 558C 4988 955D B467 8128 592C 11EA.
We will come back to you as soon as possible, but guaranteed within 48 hours. If you don't hear from us within 48 hours, something went wrong with the technology supposed to deliver your message to us and we urge you to call us at +41 (44) 450 8100 and accept our apologies in advance.
LEGAL DISCLAIMER
LEGO, SERIOUS PLAY, the mini figure, the brick, and knob configurations are trademarks of the LEGO Group, which does not sponsor, authorize, or endorse this offering